A data-driven approach to NFTs can help you get an edge over 95% of traders.
Here are some must-needed FREE resources which can take your NFT game to the next level
In this blog, we'll share resources for:
NFT dashboards for discovery & analysis

How to evaluate communities

Some awesome threads on finding and evaluating NFT projects

A few great NFT Twitter accounts worth following
NFT Market Overview
It's tough to keep track of fast-moving markets.
You can use it to see: • Trending Projects • Projects Ranked by Volume • Trading Volume ++
NFT Influencer Transactions by

@santimentfeed
Influencers often have more information than you do.
Sometimes they shill their bags which impacts the price of the NFTs. Note: Sometimes scammers airdrop NFTs to these wallets to make people think the influencer bought them. Make sure to double-check before coming to any conclusions! You can use this dashboard by @santimentfeed to track what are they Buying or Selling.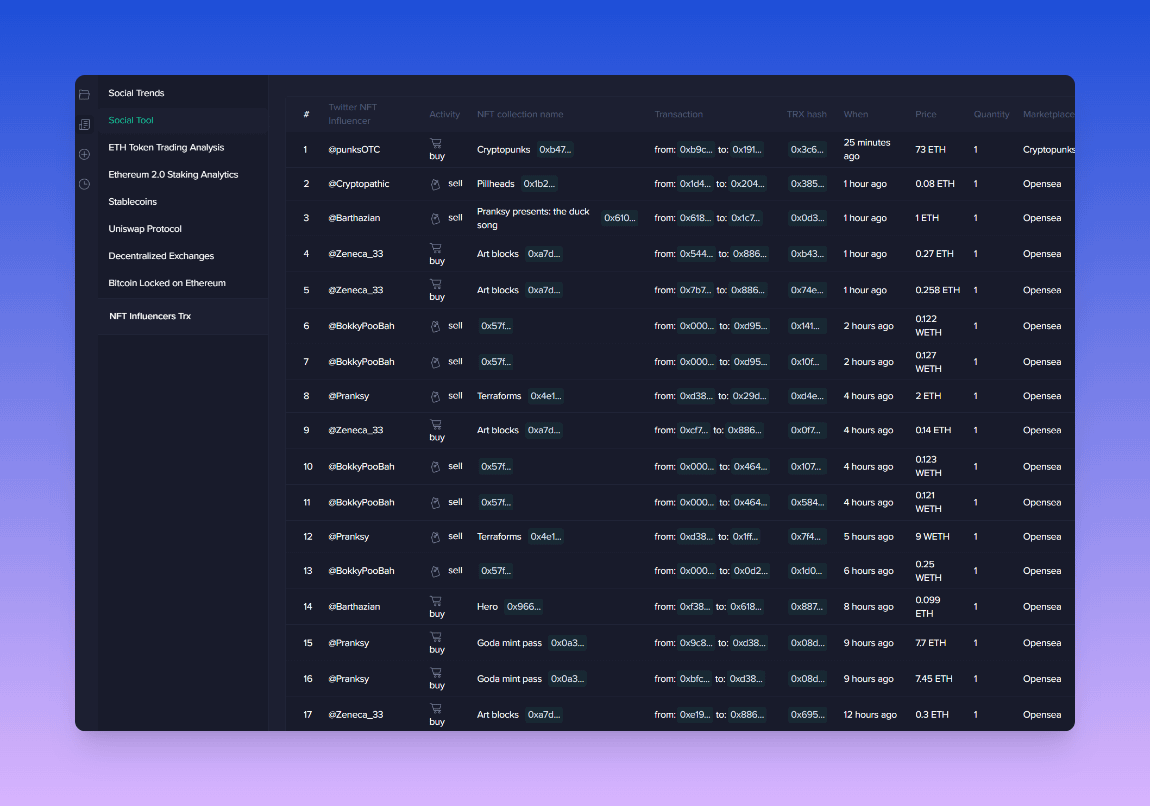 This dashboard will help you find projects early.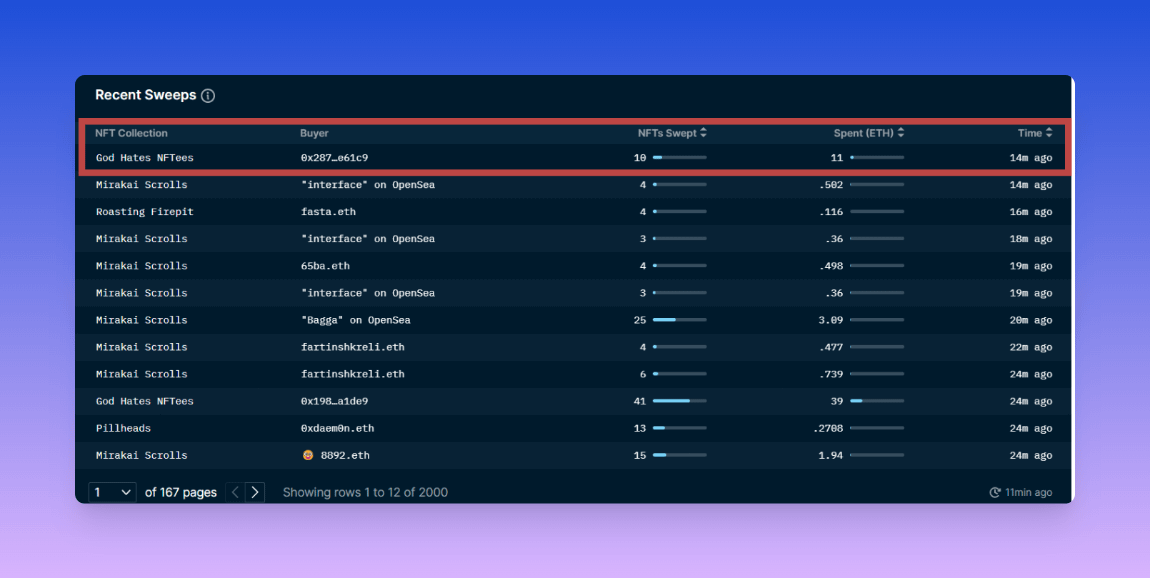 It shows you which projects people are sweeping in bulk.
People only buy in bulk if they have some ALPHA or have a very high conviction in the project.
For example, you can see from the image below that 10 NFTs were swept by "0x287.." from the collection "God Hates NFTs"
Most Successful Opensea NFT Traders
These people have a lot more experience and alpha than you do.
Tracking them in real-time, and observing their behavior can help you find NFT alpha.
Opensea Stolen Assets
Before making any major NFT purchases, make sure you aren't buying anything stolen.
Stolen assets can be frozen by @opensea.
So better safe than sorry.
NFT Project Deep Dive
After finding a project:
Copy the contract address from

@etherscan

Paste into the red box

Click "Apply All Parameters"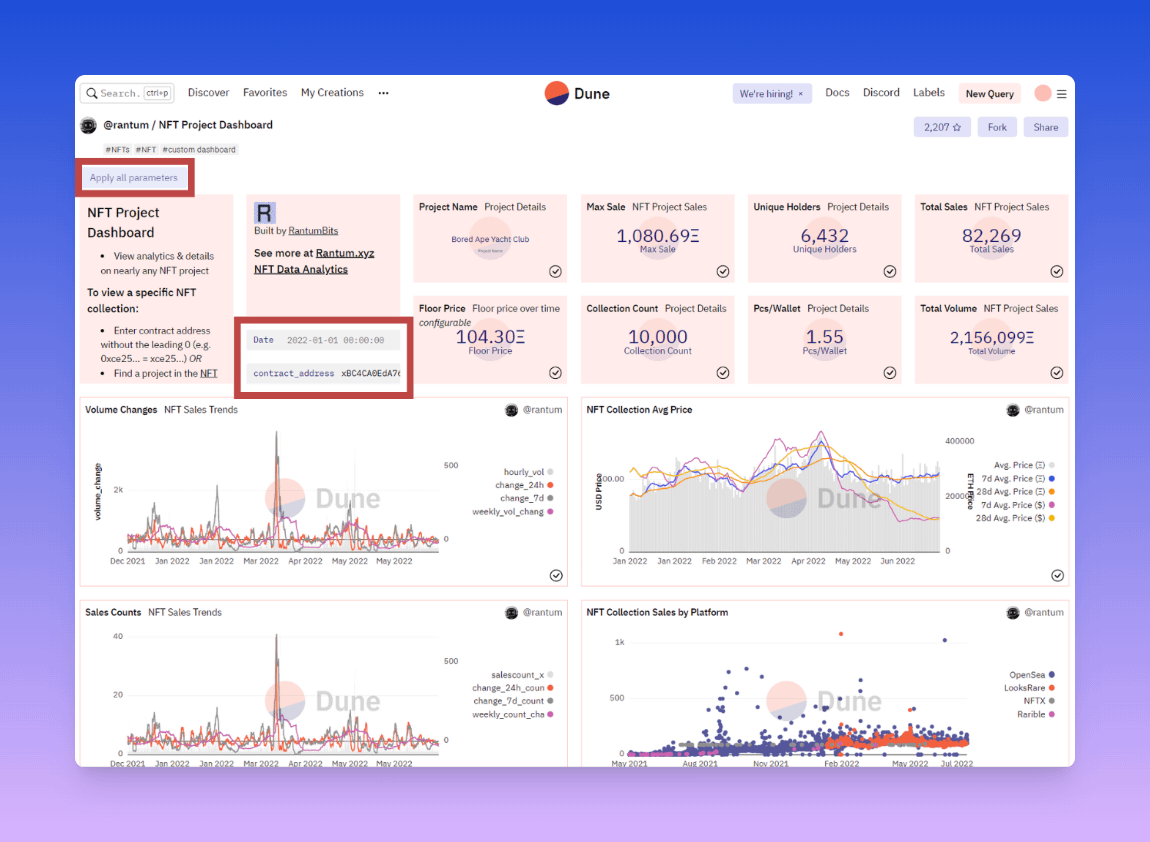 Now that you know how to find and investigate NFT projects using @DuneAnalytics Dashboards, it's time to analyze one of the most important parts of NFT projects: Community. Here's a fantastic thread about evaluating crypto communities by @Cov_duk
And since most of you are here to flip NFTs, here's an amazing thread by @cryptoPothu with advice about how to flip NFTs profitably 👇
@cryptoPothu has also shared a great 🧵 about how to evaluate NFT projects. Definitely worth a read if you're diving into this space.
5 Common NFT Misconceptions You Should Know About
How to create your own NFT collection from scratch with no coding experience